SouthEastern Solar Car Ports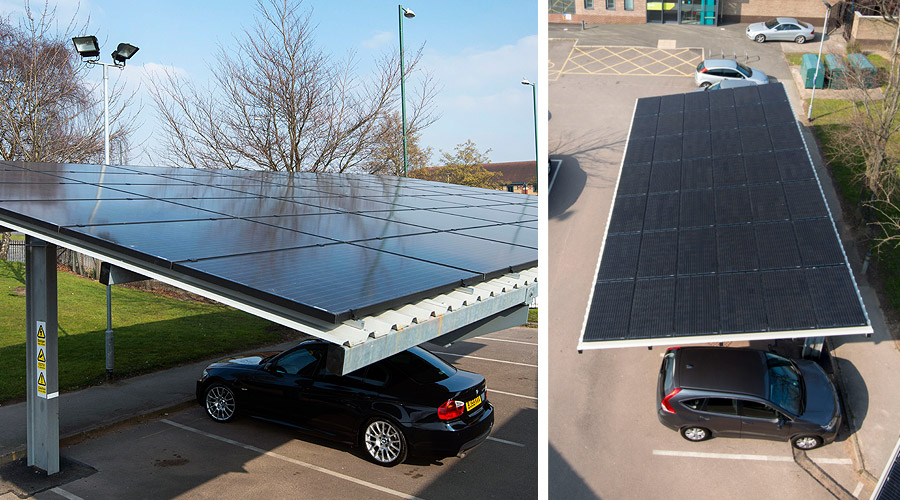 Our solar carport innovations give you all the benefits of solar PV in addition to an enhanced experience for your staff and customers parking onsite. A solar carport also offers opportunities for further green initiatives such as electric vehicle (EV) charging, providing valued facilities for the growing EV market.
From a handful of spaces beside your home to a car park that accommodates hundreds of vehicles; solar carports allow you to landscape your carpark with the latest energy technology solutions that benefit your home, business, staff and visitors. Solar carports can be installed independently or in conjunction with a roof mounted PV system on your property.
What are solar carports?

Solar carports are ground-mounted canopy constructions that stretch out over your car parking spaces. The canopy roof area – flat and slightly tilted – offers a perfect platform for solar panels to be seamlessly mounted, which also adds to the aesthetics of the structure. 
The angled roof helps to optimize the angle of the solar panels for energy generation, but it also offers natural drainage for rain water which is then collected by guttering and channeled away. Electricity generated by the carports' solar panels is immediately available to be used onsite.
SouthEastern Solar's solar carports are custom designed for each client, ensuring that constructions blend in with the aesthetics of your current buildings and sized accordingly to your electricity demand onsite.
What are the benefits of solar carports?
Additional roof space: for generating electricity that can be used onsite
Financial benefits: benefit from reduced energy bills and government subsidy
Electric vehicle charging: option to connect EV chargers for staff and visitors to charge their electric vehicles with electricity generated by the PV system
Staff & visitor benefits: in addition to the above, solar carports canopies also protect cars from the elements and keep staff and visitors sheltered when getting out of their vehicle and walking to site
Visual appeal: positively transforms the look of your parking area.


Why use SouthEastern Solar for solar carports?

Solar carports have given us the opportunity to build on our reputation for market leading innovation; our experience and capability is already making us the 'go-to company' in this field.
Many carport solutions on the market today are 'modular' however SouthEastern Solar's technical team design each project from scratch, incorporating the client's site and energy requirements; at SouthEastern Solar, one size doesn't fit all.

Counties serviced by SouthEastern Solar for Solar Carports are: Bibb, Blount, Jefferson, Shelby, St. Clair, Tuscaloosa and Walker.

From small roofs in urban settings, to ground mounts in the country and everything in between; if you have a desire to install solar panels, there is a good chance we can make it happen for you. Take the first step by calling SouthEastern Solar for a free solar site evaluation today.  Monday thru Friday: 9:00AM - 5:00PM; Saturday by Appointment.  Emergency Service: 24/7...205-545-8685.